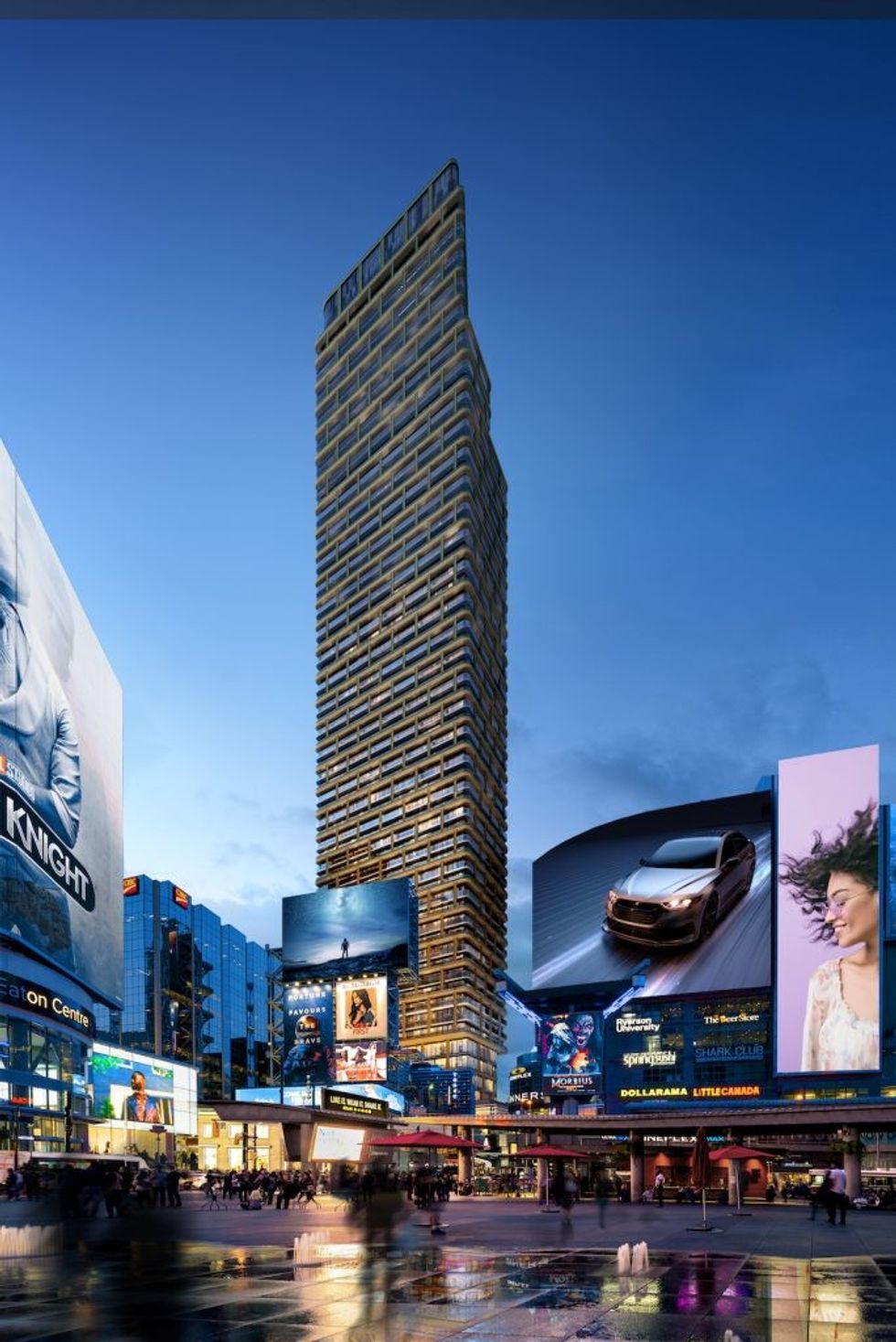 STOREYS' Real Estate Project of the Year 2022: 8 Elm
The 'Project of the Year' is Part 1 in an annual week-long STOREYS editorial series. Check back tomorrow to find out what our '2022 Issue of the Year' is.
The development team behind 8 Elm has lots to be proud of.
With the 69-storey mixed-use condo tower, Capital Developments and Reserve Properties have earned an endorsement from Canadian-Hollywood star Simu Liu, who collaborated with the two Toronto developers on the project to shape its vision. In little over a month, 8 Elm also managed to eclipse 500 pre-sales after launching in September, an impressive feat at a time when Toronto's new-home market has been all but crickets.
And now the development, set to begin construction in 2023, has been named STOREYS' 2022 Real Estate Project of the Year.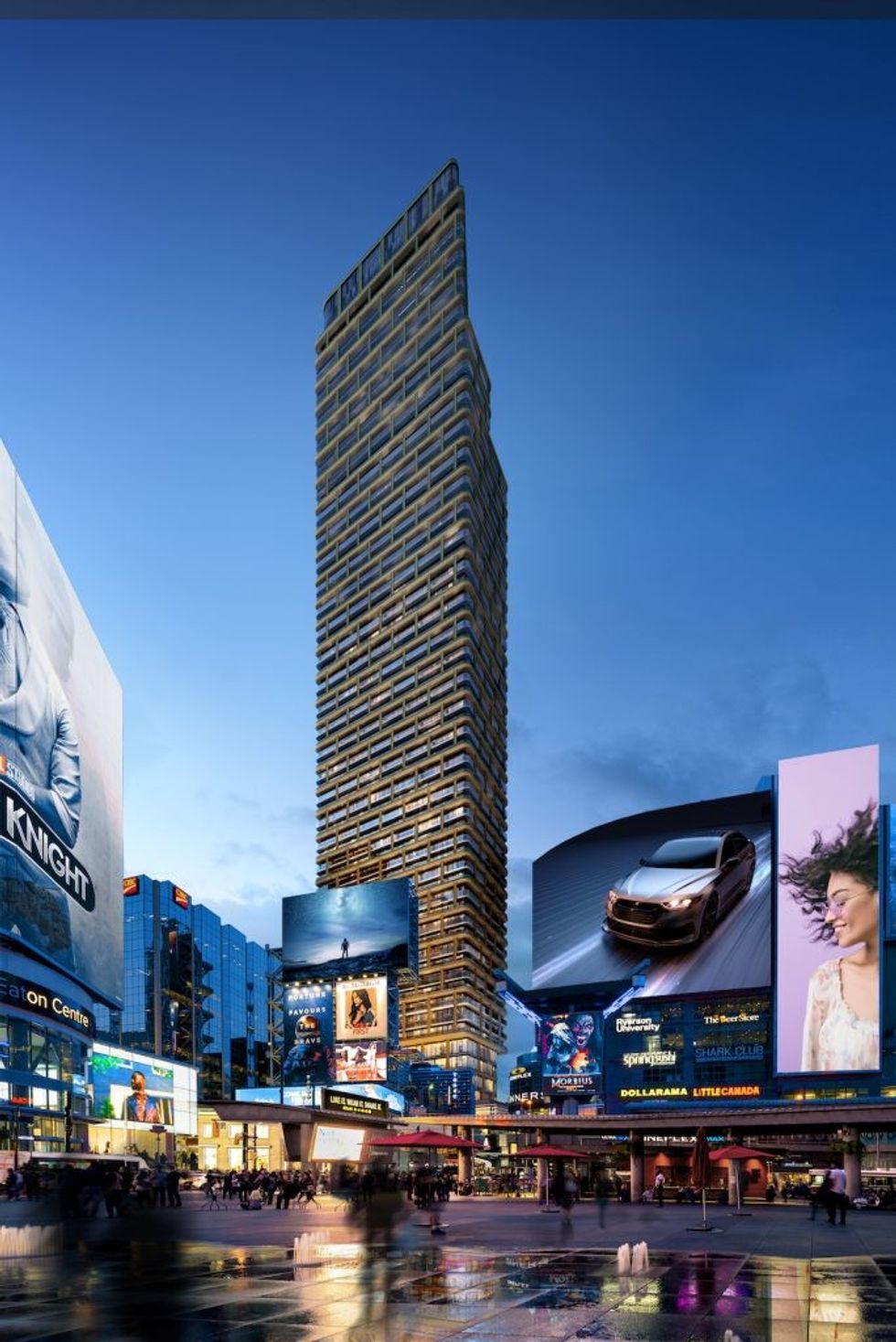 Ask Carlo Timpano, President of Capital Developments, what he's most proud of, though, and he doesn't single out sales, star power, or awards. "This sounds corny, but I'm most proud about the collaboration," he tells STOREYS. "There are a lot of people involved in a project of this scale: You have two developers, a construction manager, a separate interior designer and architect, a team of probably 20 other consultants, a third-party celebrity, a sales firm — and everything so far has worked like clockwork," he says.
The collaborative process began last summer when Capital and Reserve each realized the other was eyeing the same piece of developable property a stone's throw from Yonge-Dundas Square. "We had both been looking at this particular property for some time; we saw it as a great opportunity, and we thought it'd be great to come together and work on [it] together as a partnership," Shane Fenton, COO of Reserve Properties, tells STOREYS.
After closing the deal, the two developers began hashing plans for the property, which was already rezoned to accommodate a high-rise tower. They hired architects IBI Group, who Fenton says created a "very sophisticated" and "elegant" tower. "It's a metal lattice system that clads the building that will have this beautiful champagne bronze colour to it," he explains.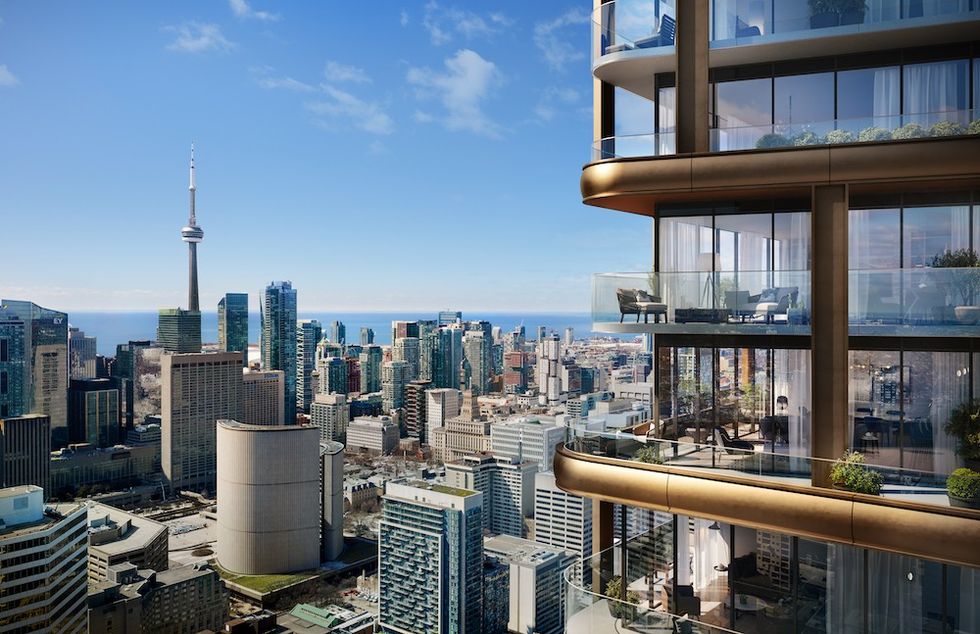 For the interior, Capital and Reserve tapped the talents of design firm Cecconi Simone. The firm, together with Liu — known for his role in the CBC TV series "Kim's Convenience" and a lead part in the Marvel blockbuster "Shang-Chi and the Legend of the Ten Rings" — created striking living spaces that represent a departure from the typically conservative aesthetics of big developers. 
"I think you can see his impact mostly clearly in the pallets that are used on the interior of the project," explains Timpano of Liu's new role as design consultant. "They're very colourful, they're very bold, and that is something that he pushed us to do." Instead of the usual light, medium, and dark suite-pallet options, Timpano notes there are green and blue themes, for example. "It shocks you out of some staid and trusted approaches you might have with regards to design," says Timpano, noting one of the perks of working with figures outside the real-estate industry.
Liu's involvement in the joint-venture project stems from a cold call the developers placed near the start of the year and has proven serendipitous: the Chinese-born actor's talent agency was actually located at 8 Elm, one of the three historic, 19th-century brick buildings slated to be partially incorporated into the development's podium, giving a boutique feeling to the unmistakably modern skyscraper. "He actually spent a lot of time in the building," says Timpano, who only discovered Liu's history with the building after the actor had signed on.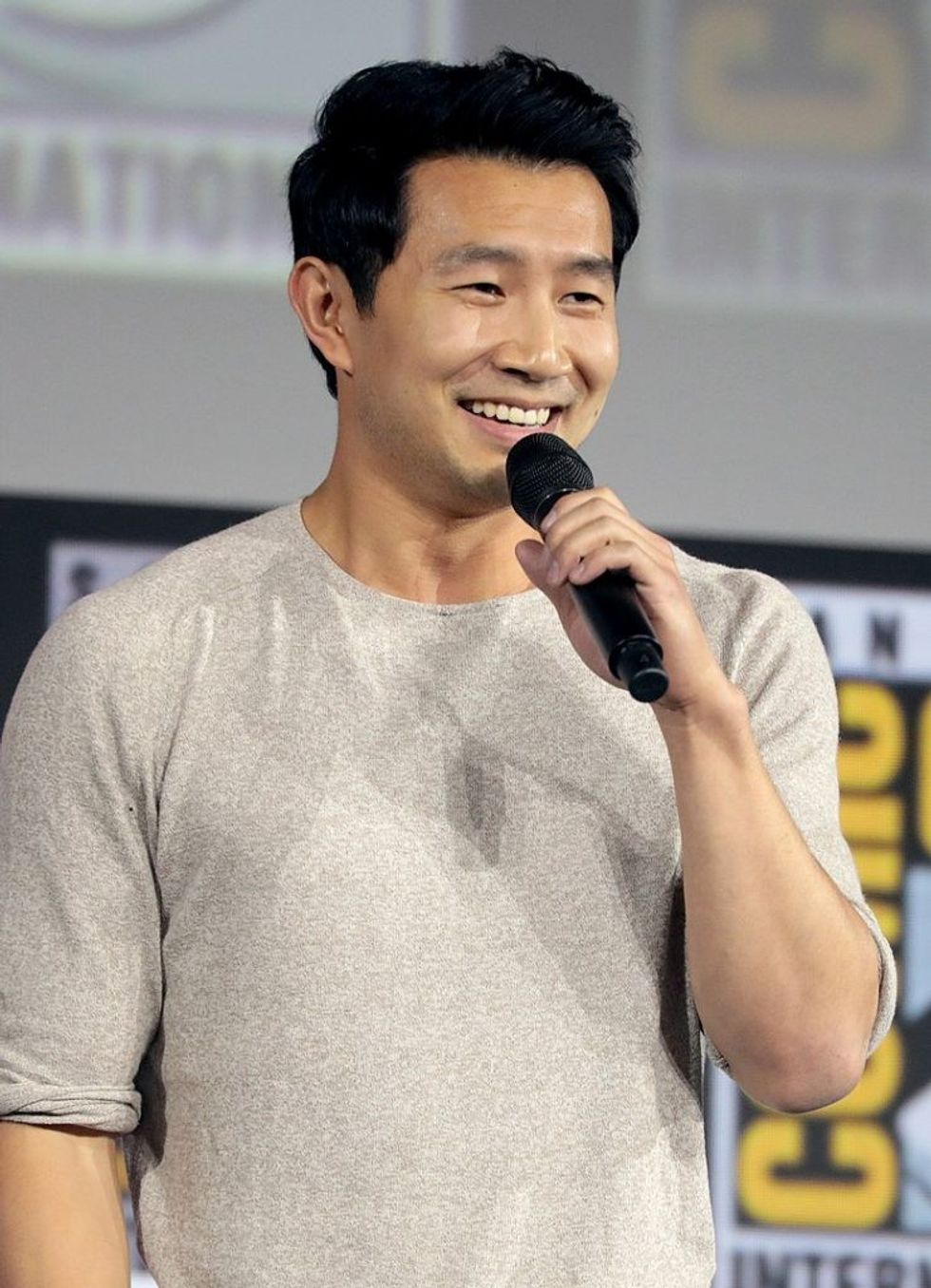 The developers approached Liu for a few reasons, Timpano suggests: "When we thought about the idea of bringing a third-party partner on board, we were looking for someone who is Canadian, someone who was well-rounded, in terms of skills, and someone who was reputationally good to work with as well, because when you're dealing on a project, it's a very long-term partnership — it's very important that your partner's easy to work with."
To Fenton and Timpano, the building's indoor and outdoor amenities — approximately 30,000 sq. ft of them in all — is where the project really shines. "It is an enormous amount of amenity space," says Timpano. "That's like five full floors of amenity space if you were to just put it onto individual floors on a typical condo tower."
Of course, the amenities aren't all lumped together. On the third floor, a terrace — complete with fire pit, pizza oven, and barbecues — crowns the heritage component and wraps around the expansive indoor health-and-wellness centre, which includes everything you need for weight training, cardio, and yoga, and also sets aside training areas.
The 8 Elm heritage building is also going to house 5,000 sq. ft of public amenity space, which the city gets to take ownership of and program. Making a contribution to the community, says Timpano, was one of Liu's top priorities. "He was very focused on understanding, 'What are the social give-backs?'" In a news release, Liu said, "I have always believed that real estate developers have a responsibility to give back to the cities they build in."
Back to the private amenities: the fourth floor is dedicated to co-working space, while a theatre is on the fifth level, a games lounge appears on the sixth, and a kids-and-pets area is right above that. Way up on the 56th floor you'll find the Sky Club, described as a "private club" for residents and their guests. "I feel like so much of the last few years has been about separating ourselves, and… social distancing," Fenton reflects. "Now that we're coming back, it was really top of mind to say, 'How do we create these special places that allow the reintegration of socialization, to bring back that social connection, to create these spaces to bring life back again? And that's what each of these spaces are about unto themselves."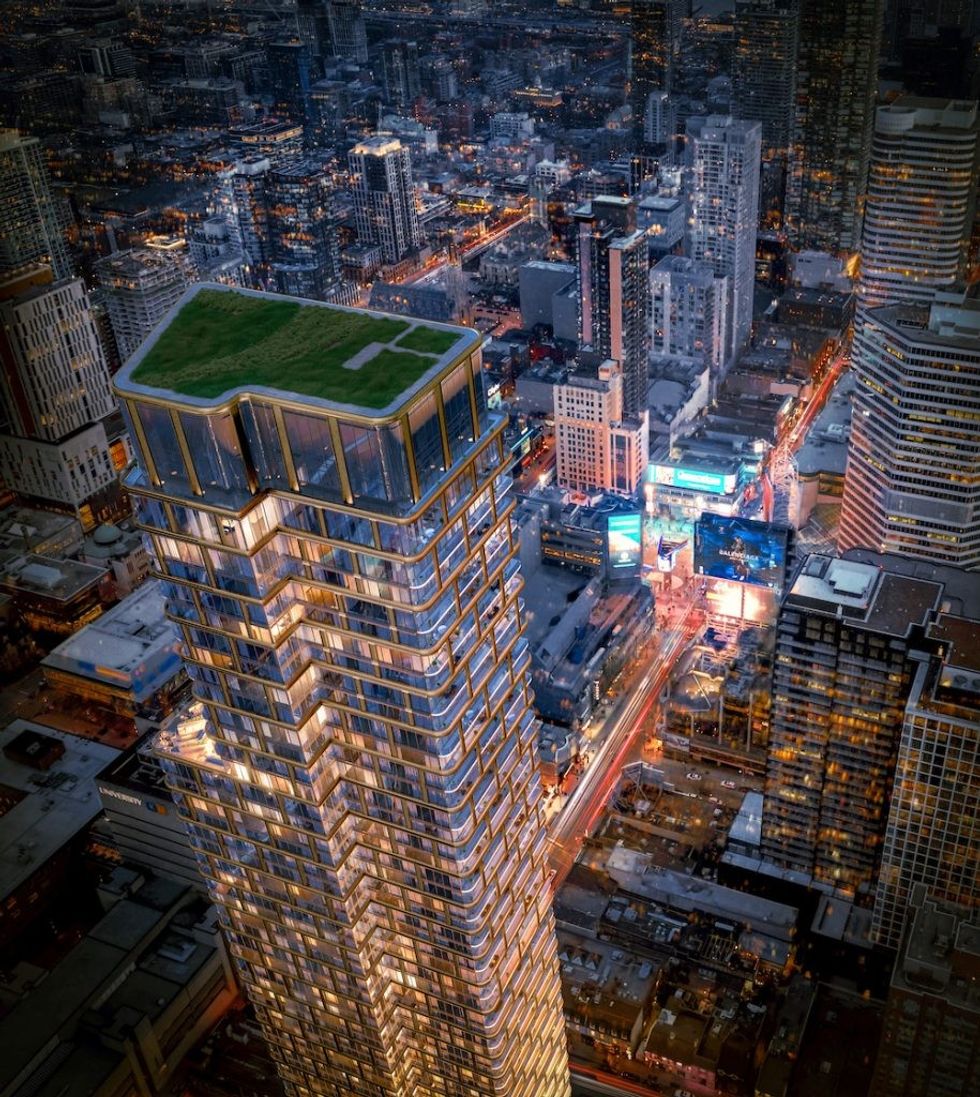 With the sales team closing several deals a day and the ground-breaking expected early next year, Fenton took some time to share his and Timpano's excitement over their latest achievement — STOREYS' 2022 Real Estate Project of the Year title: "It's a positive, exciting thing. It's great to see. We're thrilled to be recognized, and the whole team is very excited about it."