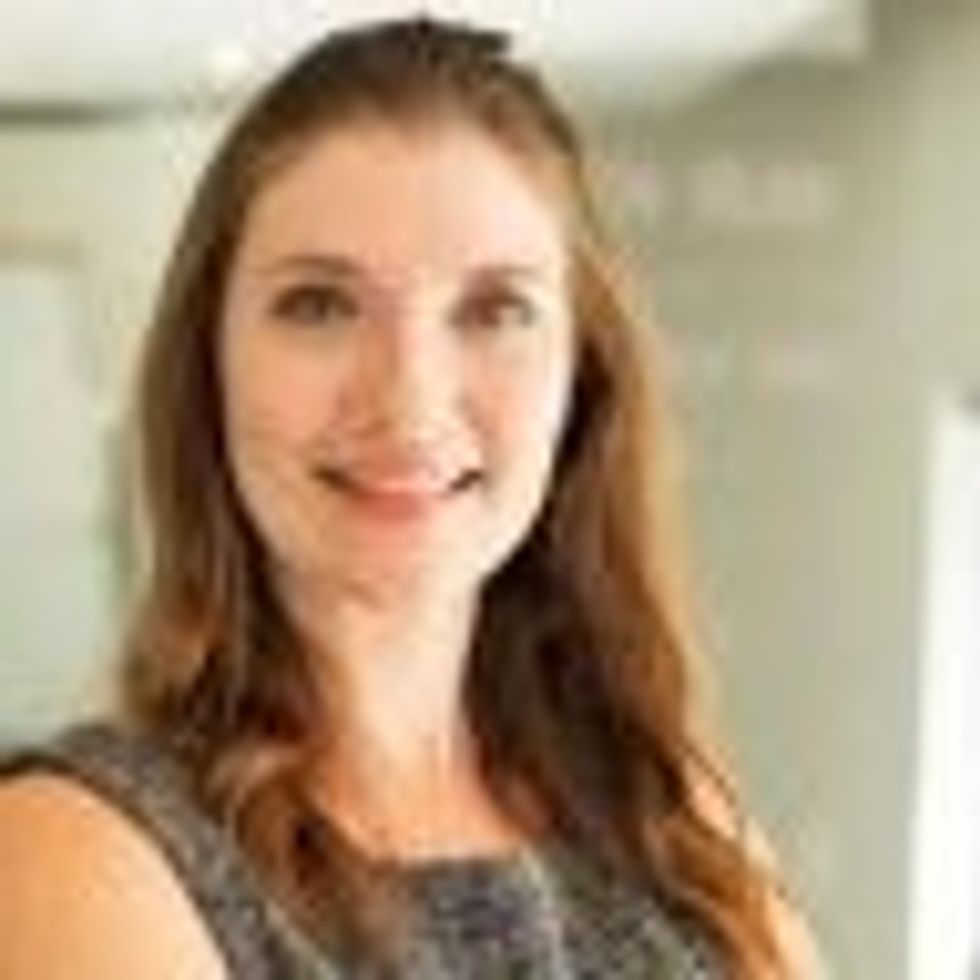 GTA Commercial Real Estate Investment Plunges 34% in Q3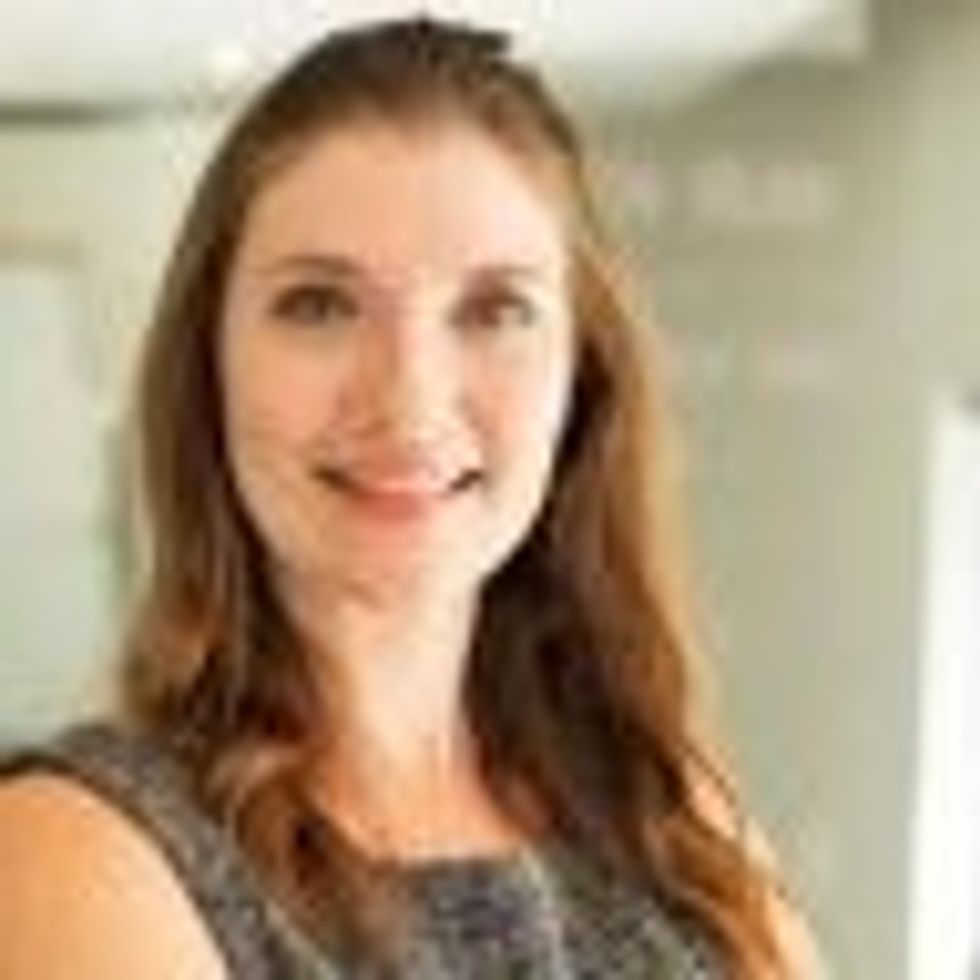 Written By
Penelope Graham
It's not just prospective homeowners feeling the pinch of rising interest rates — an overall higher cost of borrowing has had a heavy impact on the commercial real estate sector in the Greater Toronto Area, according to the latest third-quarter data from Altus Group.
The numbers show that, following a record-setting first half of the year, spending chilled considerably between July and September, with $6.1B in total investment outcome. That reflects a decline of 34%, with registered transactions down 24% compared to the same time frame in 2021.
From a year-to-date perspective, though, total investment volume comes to $25.1B, still up 10% on a year-over-year basis. However, as Altus writes in the report, "The buying frenzy witnessed in the first half has morphed into investors pausing and navigating cautiously amidst the continually rising interest rate environment." 
The Bank of Canada has raised interest rates a total of six times since March in order to combat soaring inflation. That has brought the benchmark cost of borrowing from a pandemic-era low of 0.25% to 3.75% today, a level not seen since April 2006. That has effectively thrown cold water on buying and investment intentions at all levels of the real estate market.
A rising cost of construction — exacerbated by inflation and borrowing costs — has also contributed to the commercial real estate sector's decline. According to Altus, for the remainder of the year, it will be assets offering the greatest flexibility and redevelopment potential that will remain the most popular among investors, though the "cautiousness and uncertainty in investor sentiment will persist." This will be especially apparent for those in the midst of obtaining financing for projects, as borrower criteria tightens up among lenders.
Due to this, Altus reports that cap rates have increased across all four major asset classes in the GTA: downtown class "AA" office, Tier 1 regional mall, single-tenant industrial, and suburban multi-unit industrial. An additional Investment Trends survey conducted by the advisory group revealed that, among participants, food-anchored retail strips, as well as suburban multi-unit assets remain the most coveted.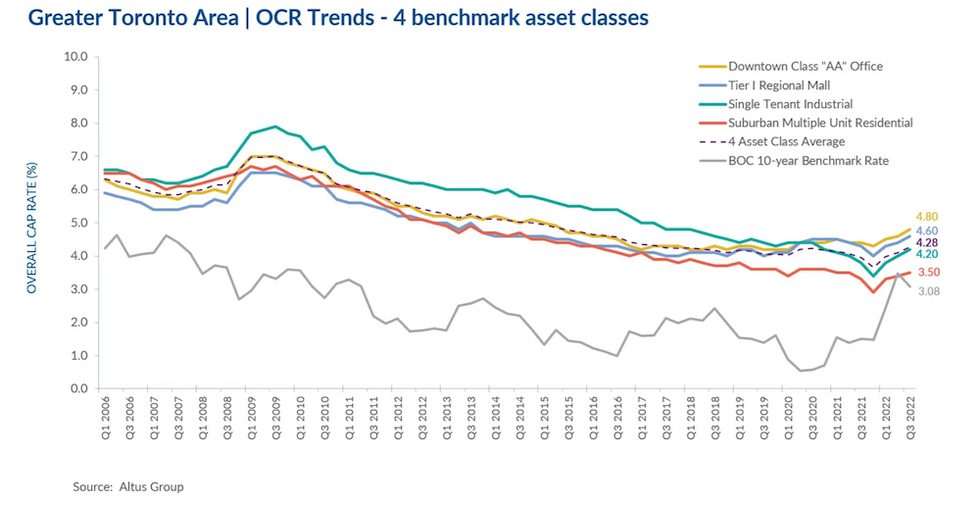 The office sector also remains a strong standout, with total investment doubling that of 2021 thus far at $3.5B. However, as Altus points out, this figure gets a notable boost by the sale of Royal Bank Plaza — which closed for $1.2B — in the first quarter of the year. The persistence of remote and hybrid work also continue to raise questions among investors about the viability of office demand into the near future.
READ: "The Office is Not Dead": How the Pandemic Forced a Workspace Evolution
Industrial space, meanwhile, continues to surge, given its steep scarcity of supply. Total industrial sales from the first three quarters of the year total $5.5B, just shy of the YTD $5.3B recorded in 2021.
"With GTA industrial vacancy rates continuing to hover around 1%, the demand for this asset persists," writes Altus. "However, with an additional interest rate hike by the Bank of Canada anticipated in the fourth quarter, investors will continue to be cautious as the cost of capital increases."
Overall demand for land in the GTA remained steady throughout the third quarter, with collective land sectors (residential lots, residential land and industrial commercial investment land) accounting for $11B to date – a 44% share of the pie for all commercial real estate deal volume this year. ICI land continues to be a strong presence, breaking the billion-dollar investment volume market for the sixth quarter in a row, while residential land showed signs of softening.
According to Altus, developers are indeed reducing their residential land acquisitions, or are pausing existing projects to ride out the rising cost of borrowing and labour. For the first time in four quarters, total investment for residential projects fell below the $2B-mark, with just $1.6B registered in Q3 — "a sign of caution after an enthusiastic previous four quarters."
Written By
Penelope Graham
Penelope Graham is the Managing Editor of STOREYS. She has over a decade of experience covering real estate, mortgage, and personal finance topics. Her commentary on the housing market is frequently featured on both national and local media outlets including BNN Bloomberg, CBC, The Toronto Star, National Post, and The Globe and Mail.
More From Author