Fargo homeowner whose 'dangerous' house was razed vows return to site – InForum
FARGO — A contractor hired by the city of Fargo tore down the house at 924 5th St. S. just weeks after
police arrested the owner, Danial Curtis
, who had been
refusing to leave his home of 35 years despite a city-posted no-trespassing order
.
As of 2 p.m. Thursday, Jan. 19, the
contractor, Pioneer LLC
, had finished the bulk of the demolition, with the entire second floor eviscerated by large equipment.
"This home was demolished because it was a safety hazard and it was a dangerous building," Fargo Inspections Director Shawn Ouradnik said, adding that it was "unfit for human habitation."
Ouradnik said city officials have tried to work with Curtis since issues with the house, which sits near Hawthorne Elementary, first began but received little to no cooperation from him.
"He just wouldn't work with us and was just abrasive through the whole thing," Ouradnik said.
After visiting the site where his house used to stand, Curtis said he's not defeated.
"I am going to sue the city and I am going to rebuild," Curtis said. He has retained an attorney and is looking to purchase a modular home to place on the lot.
Curtis is confident the lawsuit will mean he won't have to repay the city for the cost of the demolition, which Fargo anticipates will cost $68,000. The cost will be assessed against the value of the property, city officials state.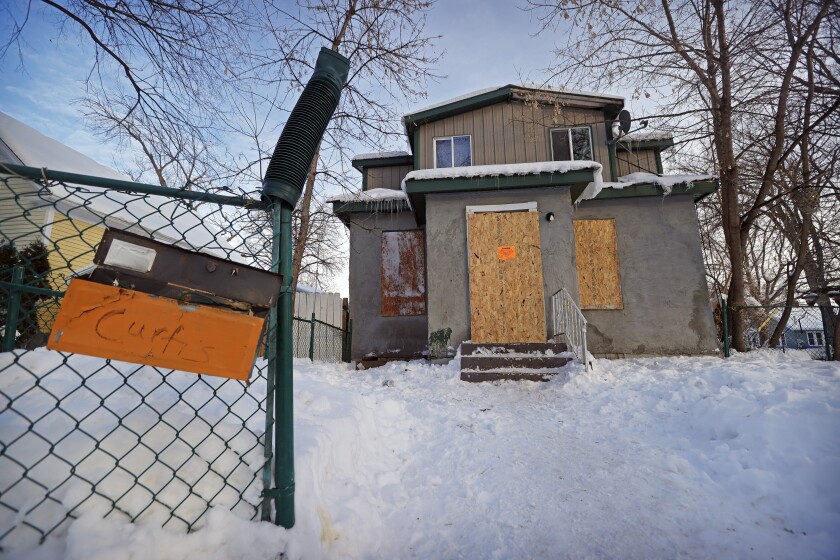 "They didn't care nothing about helping (me)," Curtis said, who felt he wasn't given a fair shake.
The hundreds of emergency calls generated around the home, according to Curtis, stemmed from the his desire to help people who are down on their luck.
"There are people that come there out of jail….because they have no other place to go," he said.
City officials declared the house a dangerous building in July
after they found it unsafe to live in
, and when the homeowner took no action to either repair or demolish the house, the
City Commission voted in September
to give him 30 days to address the problem.
During that meeting, multiple neighbors came forward to beg the commission to raze the structure. They said the occupants and visitors of the property frequently caused disturbances in the neighborhood.
The house has been the epicenter of more than 550 police calls since December 2019, according to city officials.
A moment long in the making, the second story was completely destroyed and only the front entryway stood intact when The Forum met neighbor Austin Breyer on the sidewalk.
Breyer, who wandered outside to view the demolition, has lived just a few doors away for a little over a year and has had to call 911 four times.
"It's kind of sad because a guy is losing his home," Breyer said. "But you know, what can you do? He wasn't doing anything to fix (the house) or help himself."
window.fbAsyncInit = function() { FB.init({
appId : '609251773492423',
xfbml : true, version : 'v2.9' }); };
(function(d, s, id){ var js, fjs = d.getElementsByTagName(s)[0]; if (d.getElementById(id)) {return;} js = d.createElement(s); js.id = id; js.src = "https://connect.facebook.net/en_US/sdk.js"; fjs.parentNode.insertBefore(js, fjs); }(document, 'script', 'facebook-jssdk'));